What Does It Take to Become a Pharmacist?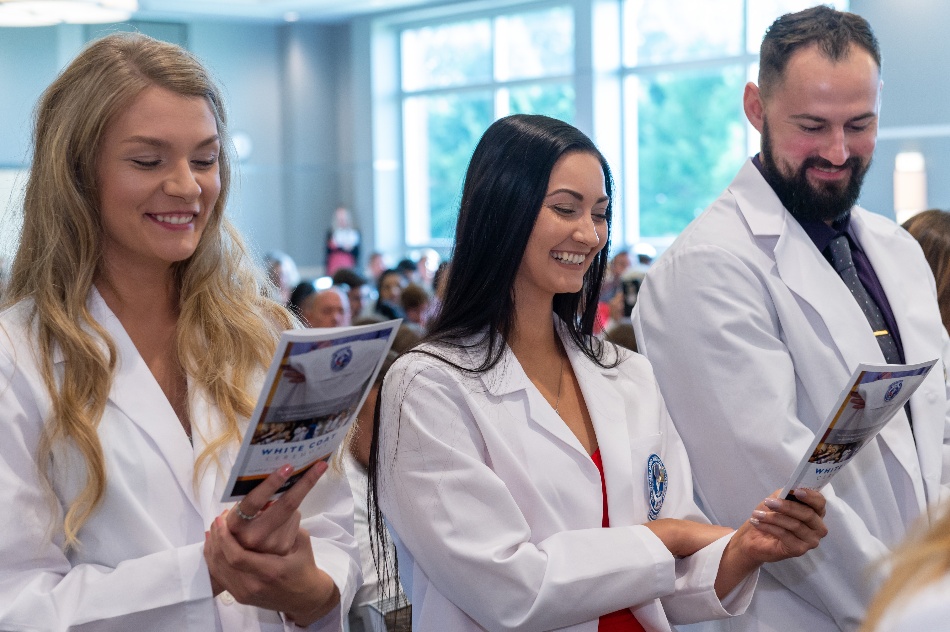 Pharmacy school is a big commitment — one you don't want to make until you know you're academically and mentally prepared. If you're considering pharmacy school, you're likely wondering what it takes to become a pharmacist. In addition to the right education and degree, having the right skill set and attitude is essential.

In this blog, we'll answer some of the most common questions prospective pharmacists have about the education, skills and personal attributes needed to become a successful pharmacist. Read on to find out if you have what it takes to succeed in pharmacy school and beyond.
What Are the Pharmacy School Prerequisites?
Unlike a medical degree or other professional degrees, the schooling to become a pharmacist doesn't require you to earn a bachelor's degree. In fact, our early assurance program allows future pharmacists to apply for admission as early as their senior year of high school and reserve a seat in the program when they complete the prerequisites.
While you don't need a four-year degree to go to pharmacy school, you do have to complete some required college-level courses to meet the pharmacy program requirements at most schools. Of course, if you still want to pursue a bachelor's degree before attending pharmacy school, you can! No matter which choice you make, it will be important to work with your advisor to plan your undergraduate study appropriately so you're prepared for the next step on the path to pharmacy school.
Your undergraduate coursework should include:
Anatomy and Physiology — 3 semester hours

Biology and other life science sequences (with labs) — 8 semester hours

General Physics — 3 semester hours

General chemistry — 8 semester hours

Organic chemistry — 8 semester hours

Biochemistry — 3 semester hours

Microbiology — 3 semester hours

Statistics — 3 semester hours

English composition sequence — 6 semester hours

Calculus — 3 semester hours

General education or additional science courses — 12 semester hours
You should earn at least a C- in all prerequisite courses. NEOMED also recommends that you earn at least a 2.5 GPA in your science courses and maintain an overall college GPA of 2.5. Students who meet the overall GPA requirement are more likely to be considered for an admission interview.
We know that curriculum might be a little different depending upon where you go to college. For example, your major may not require a two course and lab biology sequence; or you may attend a liberal arts school where you write across the curriculum instead of take composition classes. Remember that our intention is to help guide you to be successful in pharmacy school so there may be slight variation of requirements we can discuss with you. Be sure to reach out to my friend, Kelly Jeroski, to ask your questions about our prerequisites early in the application process.
How Long Does It Take to Become a Pharmacist?
As you research academic professional programs, you might be wondering, how long is pharmacy school? To become a pharmacist, you must earn a Doctor of Pharmacy (Pharm.D.) degree and pass the state licensure exam. But before you get there, you must also take prerequisite courses (see above). All in all, it takes about two to three years of undergraduate study to complete all the prerequisites for pharmacy, followed by another four academic years to earn a Pharm.D. degree.

So, if you choose to forego earning a bachelor's degree before attending pharmacy school, you can become a pharmacist in as little as six or seven academic years. For those who want to earn an undergraduate degree first, the total time in school is closer to eight academic years.
NEOMED is a traditional, non-accelerated Pharm.D. program. We do know that the allure of an accelerated program can seem very attractive. We considered this approach as well. After much thought, NEOMED faculty and students decided that allowing traditional summers off for our students to complete paid internships, work in pharmacies, conduct research, and study for board exams were all opportunities not to be missed to give our graduates that extra edge in securing the best jobs in the field of pharmacy – both upon graduation and across a career that will span decades. Isn't that the real goal everyone has?
Who Should Go to Pharmacy School?
Like any professional degree program, pharmacy school is not for everyone. Pharm.D. programs are challenging, both mentally and academically. Aspiring pharmacists should be both interested and passionate about the field in order to thrive in pharmacy school.
Typical pharmacy school applicants include:
Students looking to serve as leaders in the field of community pharmacy.
Students interested in pursuing post-graduate residencies leading toward growing opportunities in clinical positions.
Students who have worked as pharmacy technicians or in other health care settings.
What Skills Are Needed to be a Pharmacist?
From the classroom to the lab to business and provider services, future pharmacists need to be able to think on their feet, pay attention to detail and communicate effectively. Before you commit to pharmacy, you should ensure your academic history, mental and personal skills are a good fit.
Successful pharmacists often have certain mental and academic skills, such as:
A good memory,
Attention to detail,
Empathy,
Scientific aptitude,
Interest in pharmacy.
While pharmacy school will help expand your knowledge and build on your current skill set, these personal skills for pharmacists will help you be more effective and successful:
Communication,
Leadership,
Problem solving,
Time management,
Teamwork.
Put Your Skills to Work in Pharmacy School at NEOMED
At NEOMED, we're committed to equipping future pharmacists with the skills and knowledge they need to succeed in pharmacy school and in their future careers. As a student, you'll receive a strong inter-professional education that will put your brain and body into action.
Whether you want to work as a practitioner, researcher or anything else in the pharmaceutical world, the College of Pharmacy at NEOMED will prepare you to change the communities you serve for the better and put your skills and knowledge to work for the greater good.
Want to learn more about pharmacy school at NEOMED? Our new pharmacy program guide will help you determine if pharmacy school is the right path for you, and how NEOMED can help you begin your future.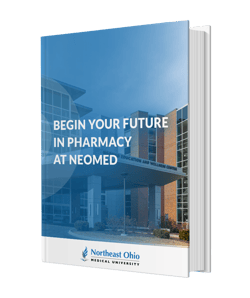 Access our eBook
"Begin Your Future in Pharmacy at NEOMED" to learn more about what it takes to become a pharmacist.
About the author
James Barrett
Sr. Executive Director of Strategic Enrollment Initiatives