Jobs for Pharm.D. vs. Ph.D. — What's the Difference?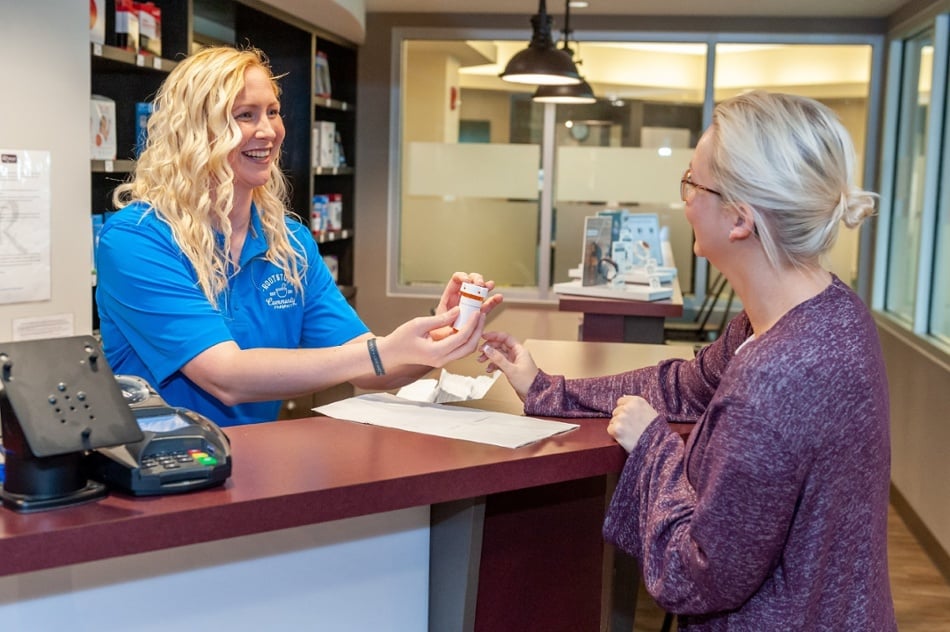 Here's something you might not know about pharmacists — pharmaceutical professionals can choose to focus their career on either patient care or research. In fact, there's a different degree for each path.
A Doctor of Pharmacy (Pharm.D.) prepares students to become Pharmacists focused on patient care, while a Doctor of Philosophy (Ph.D.) prepares students for careers in academia or research and development.
Both patient-care and research positions within pharmacy are similar in that students receive formal training and education in common subjects such as drug development, drug delivery, and medicine chemistry, but their career paths and opportunities differ in several ways.
Let's talk about the difference between patient-care and research within the field of pharmacy.
The Patient-Care Track vs. the Research Track
The Pharm.D. track is a four-year program — ending with Advanced Pharmacy Practice Experience (APPE) rotations and two personal and professional development courses. Once patient-care focused pharmacists enter the workforce, job opportunities after Pharm.D. focus on an individual's treatment options when it comes to prescription pharmaceuticals. Pharmacists typically work as providers at pharmacies or hospitals throughout their career, and it is possible to advance into management positions.
The research track of pharmacology (Ph.D.) on the other hand, often extends beyond four years and ends in an extensive research project. Pharmacology researchers, generally, work on molecular targeting, drug design, and drug delivery in developing new approaches to treat disease. Research professionals may operate as researchers at universities, hospitals, private corporations, or laboratories. Many choose to work as professors within universities in addition to research work, but they do not serve as health care providers.
How to Become a Pharmacist — Types of Pharmacy Degrees
Doctor of Pharmacy
The Doctor of Pharmacy (Pharm.D.) includes a mix of classroom instruction and real-world experience to provide students with the skills to excel in pharmacy. The school targets active learning in at least 30 percent of each student's educational track. This cooperative learning model ensures that graduates have the communication skills and practical experiences to pass licensing exams and achieve pharmacist career path.
What Do Pharmacists Learn?
The program works closely with the College of Medicine to foster a team-oriented approach to pharmacy and medicine. The College of Pharmacy has two departments: pharmaceutical sciences and pharmacy practice.
Ph.D. Programs
Students interested in research have a number of opportunities related to biomedical sciences. Graduate students receive a mix of classroom instruction and real-world research experience by working alongside faculty.
Pharmacology is the research side of the Pharm.D. program. Students in this area may develop expertise in molecular targeting, drug design, and drug delivery in specific response to disease. The program uses a combination of classroom instruction, laboratory work, and the opportunity to work alongside faculty at NEOMED and Kent State University. Prior to starting a Ph.D. program, most students will need to earn a master's degree after their four-year degree. Some programs may integrate the master's and Ph.D. degrees where one builds upon the other.
Comparing the Job Markets for Pharm.D. vs. Ph.D.
Pharmacists
In 2019, the median pharmacist salary was $128,090. For pharmacists, the number of hospital jobs is expected to grow by 4 percent by 2028. Pharmacists take prescriptions from medical doctors and administer medications to patients. They are also qualified to ask questions and provide information regarding the medicines they prescribe. The majority of pharmacists work in pharmacies within retail stores or medical facilities although the field is evolving with more and more recent graduates electing to work in clinical settings. There are even niche sectors of medicine different types of pharmacists can specialize in with a year or two of residency after graduation.
Working as a pharmacist requires a Doctor of Pharmacy, known as a Pharm.D., which is a four-year degree. They are also required to pass two exams related to licenses.
Medical Researchers
Medical researchers (M.S. and Ph.D.) earned a median annual salary of $88,790 in 2019, and the field is expected to grow by 6 percent, which is a bit faster than the national average. Most researchers work full time in either a laboratory or a general office environment. These positions are responsible for the study of medical conditions and the development of treatments and medicines.
Working in this field usually requires a Ph.D., but many candidates are able to obtain rewarding positions based on experience or other academic accomplishments. For example, some medical researchers also have a medical degree in addition to a medical research background.
Jumpstart Your Health Care Career at NEOMED — Connect With Us!
Take the next step toward an exciting career in the medical field — we can help you get started.
If you need help deciding which of the above career paths is best for you, we invite you to schedule a career consultation with us. In order to do so, contact the College of Pharmacy at kjeroski@neomed.edu or schedule a meeting. Best of luck!
Want to learn more about health care careers after NEOMED? Download our resource, "Getting a Job as a Medical Professional with Your Health Care Degree".
About the author
Kelly Jeroski
Assistant Director of Admission