Student Spotlight: Finding a Career You Are Passionate About
Written by Ikenna Ogwuegbu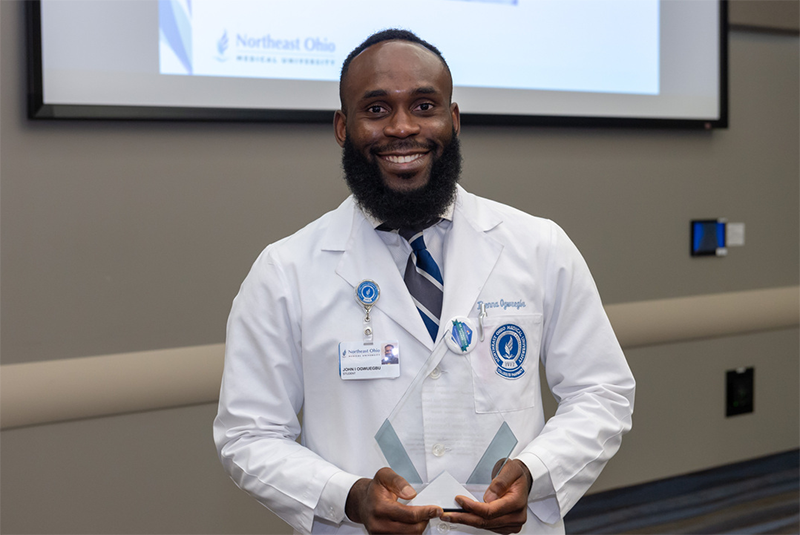 My name is Ikenna Ogwuegbu and I am finishing my third year as a pharmacy student at Northeast Ohio Medical University, or "NEOMED" for short.
Not all that long ago I was contemplating careers within professional health-related fields in order to improve the health of my community in the United States and back home in Nigeria.
I am passionate about improving community health and knew I wanted to work as a professional health practitioner. It was after having a detailed conversation with a family member, who happens to also be a pharmacist, that I decided to focus on pharmacy, and I never looked back.
Ikenna Ogwuegbu's Story
I spent my childhood in Nigeria and then immigrated to the west side of Cleveland, Ohio. It was a big change! I attended a public high school in the city and matriculated to Cleveland State University. I actually majored in international and global studies and earned two degrees without giving much thought at all to things like Organic Chemistry and Biochemistry. I applied and was accepted to Ph.D. programs and had plans to start in the fall. It took a personal story within my immediate family for me to discover that healthcare was my calling.
What Exactly Is a Career In Pharmacy?
Like many people, I thought of the pharmacy as a place where you waited in line as pills went into a bottle. When I had the opportunity to learn more, I discovered what being a pharmacist was really all about. My community pharmacist often became my go-to when I had questions. They broke things down for me. They helped me understand concepts like how the therapeutics were helping my family member and what side effects they might present. I discovered that pharmacists play an important role as an indispensable member of the healthcare team.
This year, for example, my fellow students and I are administering Covid-19 vaccinations outside of attending classes. Also, if your community is anything like mine, the health disparities manifested in part by chronic conditions such as hypertension and diabetes are proven to be managed more effectively when pharmacists play an active role as an easily accessible community-based health care provider that patients can really talk to and trust.
Where Can a Career in Pharmacy Take You?
Additionally, a career in pharmacy allows for the pursuit of many different subspecialties and many avenues for success. Pharm.D. graduates from high-quality programs like NEOMED are finding well- compensated jobs soon after graduation or entering residencies in clinical settings just like medical students before starting pharmacy careers in health care systems. A published study from the Center on Education for the Workforce out of Georgetown University found that "The highest paying detailed major among African Americans is pharmacy and pharmaceutical sciences..."
In addition to starting a rewarding health care practitioner career where I have the opportunity to make a positive impact on my community, I picked the right pharmacy school. NEOMED's outcomes on the NAPLEX exam speak for themselves. But I had the opportunity to study alongside M.D. students and really get involved on campus with academic initiatives. I know that I was able to have a positive impact in our small community campus setting, and I really feel like I was able to make a lasting difference. Most importantly, I made great friends.
Learn More About Starting Your Career in Pharmacy
Some of my professors and classmates put together a video that shares more about what modern careers in pharmacy are all about. You can learn more about pharmacy and NEOMED in just a few minutes.
Whether you are still working on your undergraduate degree and these videos help you learn more about the barriers to entry into a doctoral-level program (NEOMED pharmacy school does not require a four-year degree or any entrance exam), or you are completing a gap year and looking to start a program this fall, pharmacy at NEOMED might be right for you. Applications are open and accepted until June 1, 2023.
Thank you for letting me share a little bit about my story with you. I truly wish you all the best and look forward to one day serving our community together as part of the next generation of health care providers.
Find the Right Career for YOU!
Career options in pharmacy are more abundant and diverse than you think! Discover more in our blog posts: What Can You Do with a Pharmacy Degree? and Fast Forward: You Have Your Pharm.D., Now What?
If you're ready to take the next step toward finding an exciting career in the medical field — we can help you get started. If you need help deciding which career path is best for you, we invite you to set up a career consultation by contacting the College of Pharmacy at kjeroski@neomed.edu or by scheduling a meeting today.


Want to learn more about health care careers at NEOMED? Download our resource, "Getting a Job as a Medical Professional with Your Health Care Degree".
About the author
Ikenna Ogwuegbu
3rd Year Pharm.D. Candidate at NEOMED