Fast Forward: You Have Your Pharm.D., Now What?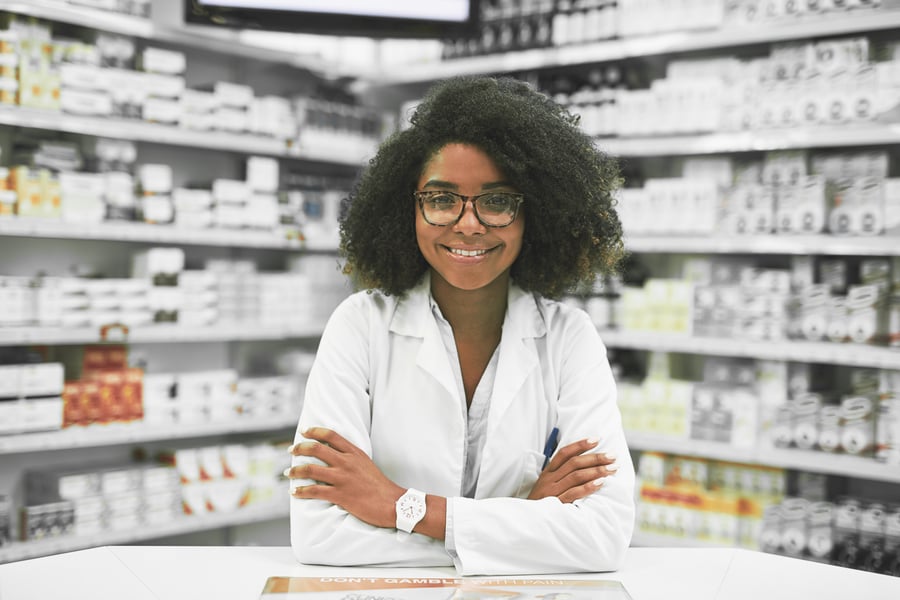 A Pharm.D. degree gives you access to a variety of jobs in pharmacy, ranging from community practice to providing consultative services.
Pharmacy Career Options
Most people probably think of their local chain pharmacy when they consider where a pharmacist might work; in reality as a Pharm.D. holder you have a world of career path choices outside working in a retail pharmacy. According to PharmacyForMe.org, the career paths for pharmacists fall into these divisions, but are not exclusive to:
Community Pharmacies
Independent pharmacy
Community health centers
Veterinary pharmacy
Compounding pharmacies
Pharmaceutical companies

Hospitals
University Professor
Long term care facilities
In-home health care agencies
Government
Mail order pharmacies
Each of these diverse career paths connects you with other health care workers and patients, and each gives you an array of benefits to enjoy on a daily basis. Which one is right for you? Let's explore a few in more detail so that you can decide.
Community Pharmacy
As a community pharmacist, your job will be to serve the public. In addition to dispensing prescriptions, you will also educate patients about their medications, how to take them properly and how to manage side effects if they occur.
Many people seek out their local pharmacist for guidance or advice about over the counter medications for minor illness, like a cold or flu, or how to treat small abrasions, cuts and bruises.
You will also serve a role in protecting your community from the spread of illness. Many pharmacists administer flu shots every year, and community pharmacists have also played a major role in the administration of the COVID-19 vaccine.
According to the U.S. Bureau of Labor Statistics, in 2019 the median annual salary for community pharmacists who work in general merchandise stores (like super centers and big-box stores) was $136,320, whole those who worked in food and beverage stores (like your neighborhood grocery store) made a median annual salary of $132,750.
Furthermore, drugstores like Walgreens are offering up to $75,000 dollars in sign-on bonuses to attract prospective pharmacists.
Compounding Pharmacy
Instead of dispensing pre-mixed formulas to patients, as a compounding pharmacist you would create custom medications from base ingredients according to a patient's needs.
Compounding pharmacists are able to produce the same or similar medications as community pharmacies, but they are more often asked to customize prescriptions. For example, you might eliminate an ingredient for a patient with an allergy to a dye or filler, customize dosages that aren't available on a commercial scale, create custom flavors or even combine medications and supplements to make it easier for patients to take.
The U.S. Bureau of Labor Statistics found that pharmacists who worked in pharmacies and drug stores earned a median annual salary of $125,910 in 2019.
Government
Within the government, pharmacists most often work for federal agencies like the FDA, the U.S. Public Health Service, Veteran Affairs or even for state and local authorities. As a government pharmacist, your duties would likely include compounding prescriptions, advising on drug therapy and usage, assisting with research and development of new medicines and techniques or even evaluating drug proposals from private industries.
Pharmaceutical Companies
If you want to work directly for a pharmaceutical company as a pharmacist, you could fill roles in marketing, medical or regulatory affairs, or research and development.
As a part of medical or regulatory affairs, your role would include ensuring that pharmaceutical companies comply with promotional rules, provide overall strategic direction for a product, or educate physicians and other health care professionals on a company's products. If you have strong business sense, a role in a marketing department would mean helping with promotional content, sales or product management.
Research and development, on the other hand, would allow you to work in a lab setting. Research and development pharmacists help create new products, conduct experiments and analyze data.
Hospital Pharmacy
Hospital pharmacists aren't just the people who dispense prescribed medications for hospital patients. It is a major part of the hospital pharmacy team's responsibility, but as a core member of the hospital team your duties would extend beyond delivering medication. Hospital pharmacists are often expected to recommend administration routes and dosages, monitor the effects of medications, and counsel patients on side effects.
Ensuring patients are discharged with the proper medications and know how and when to take them is an another essential role. Outside of patient care, hospital pharmacists are also responsible for keeping track of the hospital's medication inventory along with purchasing, manufacturing and dispensing their medication stock.
In 2019 the median annual salary for pharmacists working in state, local and private hospitals was $129,740.
University Professor
There are exciting roles for pharmacists in academia, too. As a university professor, your career would likely combine teaching, research and clinical practice. You would have opportunities to indirectly impact patient care and influence future pharmacists. If you take a job at a research university, depending on your interests, your research could include new and experimental drugs, patient care or even teaching and learning methods. Academic positions offer a high level of autonomy and frequent opportunities for advancement.
While these are just a few options for Pharm.D. holders, there are many exciting and unexpected opportunities for pharmacists outside of working at your local chain pharmacy. Whether you prefer a career that focuses on research, patient care or regulation, a Pharm.D. can open many doors.
Start Your Career in Pharmacy at NEOMED —
Connect With Us Today!
Now that you know what kind of careers are available, take the next step toward your future. If you need help figuring out if you're ready to apply, we invite you to schedule an admissions information session with us. In order to do so, contact the College of Pharmacy at kjeroski@neomed.edu or schedule a meeting. Be sure to ask if you might qualify for early assurance to NEOMED if you are more than a year away from completing all of your pre-requisites. Best of luck!


Want to learn more about what's required to apply for pharmacy school? Download our resource, "No Bachelor's? No Problem!
How to Become a Pharmacist in 2021".
About the author
Kelly Jeroski
Assistant Director of Admission