Student Spotlight: From Community Pharmacy to Beyond the Counter
Written by Yahira Diaz Cardona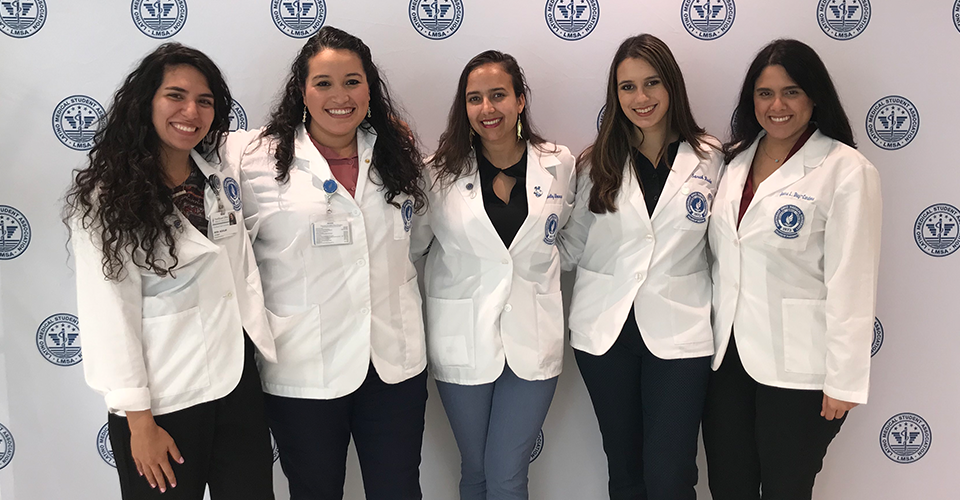 My name is Yahira Diaz Cardona and I am finishing my third year as a pharmacy student at Northeast Ohio Medical University, or "NEOMED" for short. My friends call me "YaYa", and you can, too. I'm on the far right in this photograph with a few of my pharmacy school and medical school colleagues in the LMSA (Latino/a Medical Student Association), Aviva, Carmen, Anibelky, and Sarah.
At NEOMED, we medical and pharmacy students collaborate all the time – not just in group photos. While we work toward different degrees and study different curriculum, we share campus apartments together, volunteer together in community health outreach service on campus and in the region, take part in inter-professional course assignments, and most importantly, we support one another as one community. And why wouldn't we? When we graduate and move into our professional health care roles, we will serve in complimentary roles as part of one patient care team, whether we treat patients in community-based settings or larger clinical systems.
Since I started working in a community pharmacy in the town of Corozal, Puerto Rico, I came to believe that the role of the pharmacist should not stop behind a counter or inside an industry. Today's pharmacist should be more involved in the decision- making for treatment, create more consciousness and awareness about health conditions such as antibiotic resistant bacteria, diabetes, high blood pressure, and medication abuse in the public health arena. At NEOMED, I found a pharmacy school that fits my philosophies!
Pharmacy as Your Passion
My passion for pharmacy took off when I was the assistant manager of my community pharmacy. I had the chance to witness the everyday responsibilities of the pharmacists and how they took care of their patients. During that time, my curiosity began to focus on the composition of the different drugs, their functions, their mechanisms, and their interactions with other drugs.
This curiosity led me to start reading and studying the diverse drug description labels, since I felt the need to know all that there was to know about how drugs worked, and often asked the pharmacist for any possible details that I had missed. At this point I fell in love with this field. Pharmacy was my calling.
After NEOMED, I want to become a qualified professional in order to dispense and prepare medical drugs because I have found a passion for the art that comes with the drugs, their respective mechanisms, and how much they can optimize a patient's health when the appropriate medication is given.
Some of my professors and classmates put together a video that shares more about what modern careers in pharmacy are all about. You can learn more about pharmacy and NEOMED in just a few minutes.
How I Found Northeast Ohio Medical University
I found NEOMED from my home is Puerto Rico where I attended undergraduate university. I know that I picked the right pharmacy school. NEOMED's outcomes on the NAPLEX exam speak for themselves as they rival any Pharm.D. program in the nation. I have the opportunity to study along side M.D. students and really get involved on campus. Sure, it snows in Ohio, and we could all use some more sunshine in the winter months, but I've made great friends and I know that I am able to have a positive impact in our small community campus setting. I really feel like I am able to make a lasting difference. I invite you to join me.
Whether you are still working on your undergraduate degree and these videos help you learn more about the low barriers to entry into a doctoral-level program (NEOMED pharmacy school does not require a four-year degree or any entrance exam), or you are in a gap year and looking to start a program this fall to move your career forward now without waiting another year chasing admission, pharmacy at NEOMED might be right for you. Applications to start the Pharm.D. this August are still being accepted until June 1.
Thank you for letting me share a little bit about my story with you. I truly wish you all the best and look forward to one day serving our community together as part of the next generation of health care providers.
Start Your Career in Pharmacy at NEOMED —
Connect With Us Today!
Now that you know what's required to get into pharmacy school, take the next step toward your future. If you need help figuring out if you're ready to apply, we invite you to schedule an admissions information session with us. In order to do so, contact the College of Pharmacy at kjeroski@neomed.edu or schedule a meeting. Be sure to ask if you might qualify for early assurance to NEOMED if you are more than a year away from completing all of your pre-requisites. Best of luck!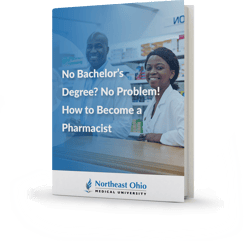 Want to learn more about what's required to apply for pharmacy school? Download our resource, "No Bachelor's? No Problem! How to Become a Pharmacist in 2021".
About the author
Yahira Diaz Cardona
3rd Year Pharm.D. Candidate at NEOMED