Alumni Spotlight: Megan Nagley, Pharm.D. '19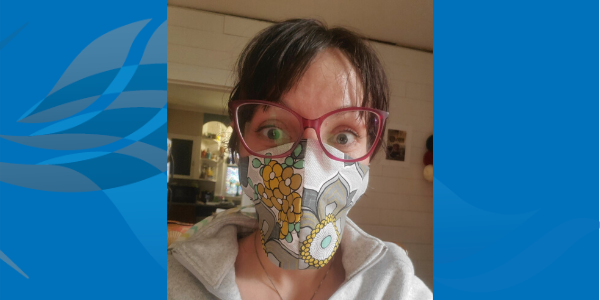 Our Alumni Spotlight is Megan Nagley, PharmD ('19)! Dr. Nagley currently works at Allen's PharmaServ in Youngstown. She saw a need for reusable masks at her pharmacy at the start of the pandemic.
"Everyone was complaining about their paper ones," Dr. Nagley told us. "Not to mention, we were only allotted two paper masks per person until they were no longer on back order, which could be a while." With a free weekend approaching at that time, she took it upon herself to spend it using her talents as a seamstress to make as many reusable cloth masks as possible. So far, Dr. Nagley has given masks to coworkers, family, and friends (both in the states and in Japan!).
"My theory is that if you have talents to do good in the world you should do it." Dr. Nagley mentioned. "Maybe there's a chance I prevented someone from getting the coronavirus and that's a huge difference to play in this world of chaos right now! There are a lot of people who know how to sew that are making these reusable masks, it's not just me. I think there is a lot of credit that also needs to go out to them, as well. It proves you don't have to be a doctor or a nurse to be part of a healthcare team. Let's all keep it up and get through this together!"
Well said, Dr. Nagley! Way to go!
About the author
Kelly Jeroski
Assistant Director of Admission