Student Spotlight: Hannah Colburn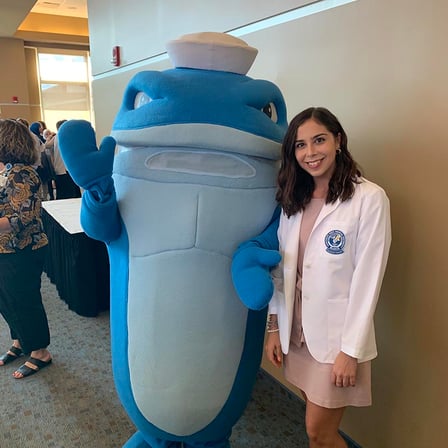 Hannah Colburn knows about following her passions — she's been doing it since she first learned what a career in pharmacy could be like during a high school class. Since then, she's tackled obstacles, discovered new resources and opportunities and came out with an even stronger passion for caring for others through pharmacy. Read on to hear more about Hannah's NEOMED experience.
1. Where are you from? Where and what did you study during your undergraduate years? What initially got you interested in pharmacy?
I'm a third year student pharmacist at NEOMED. I'm from a really small town called Mineral Ridge, Ohio, and I went to Youngstown State University (YSU) for my undergraduate years. At YSU, I finished my prerequisites for pharmacy school in 2.5 years and was fortunate enough to get accepted into NEOMED. I initially got interested in pharmacy when I was in high school, and my chemistry teacher had a pharmacist come in and tell us about her job.
2. Did you encounter any hesitations, obstacles or fears about pursuing a Pharm.D.?
I didn't. I was very excited and determined to explore this career path. I think the only obstacle I faced was deciding to not get my bachelor's degree. At the time I had to pave that path for myself, making sure I was taking all the proper courses, navigating the application process, etc. I now know NEOMED has great programs with this specific goal in mind, which is really helpful for prospective students.
3. Why did you choose the pharmacy program at NEOMED? Now that you've experienced the program, what's your favorite part about it?
In my first year of undergrad, I got the chance to tour NEOMED's campus and after that it was always my first choice. I grew up going to a really small high school, so I was accustomed to smaller class sizes and the sense of community that smaller schools bring, and that's what I felt with NEOMED. The sense of community is definitely my favorite part of NEOMED. Whether it's the faculty, staff, or students, there is always someone willing to help.
4. What resources do you feel set NEOMED apart from other Pharm.D. programs?
I think just the number of resources NEOMED offers their students sets this program apart. The counseling services are a great resource for students pursuing professional degrees, helping with stress, burnout, imposter syndrome, but especially over the past year with COVID-19, they've been a great asset to NEOMED. Additionally, there is always some sort of event, club meeting, or volunteer opportunity going on at NEOMED, which makes it really easy for students to get involved.
5. What achievement, project or experience are you most proud of from your years in pharmacy school?
I recently got an internship with the Cleveland Clinic. I haven't worked in a hospital before, so I am super excited for all of the learning opportunities that this will bring!
6. What are your career dreams or plans? How has the Pharm.D. program at NEOMED helped prepare you for your future?
I haven't quite decided on my future career plans. I can definitely say that my dream career involves working in a clinical setting where I can constantly keep learning and helping patients to the best of my abilities. I think NEOMED does an amazing job at presenting all the wide range of careers that pharmacy offers. Before I started at NEOMED, I was unaware of a lot of potential career opportunities, and I'm grateful NEOMED helps us learn about them.
Pursue Your Passion for Caring Through
Pharmacy at NEOMED!
Whether you've known pharmacy was the right path for you for awhile, or you're just uncovering the wide-variety of opportunities in the field, NEOMED can help you every step of the way toward your Pharm.D. With resources like information sessions, pre-pharmacy bootcamp and more or events to attend, there's plenty of ways you can explore how to funnel your passion for providing care to a lucrative and fulfilling career in pharmacy.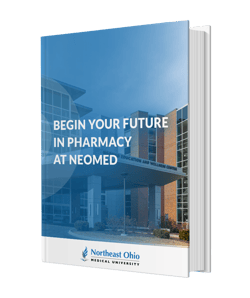 Access our eBook
"Begin Your Future in Pharmacy at NEOMED" to learn more about what it takes to become a pharmacist.
About the author
Kelly Jeroski
Assistant Director of Admission