Student Spotlight: Faith Belcher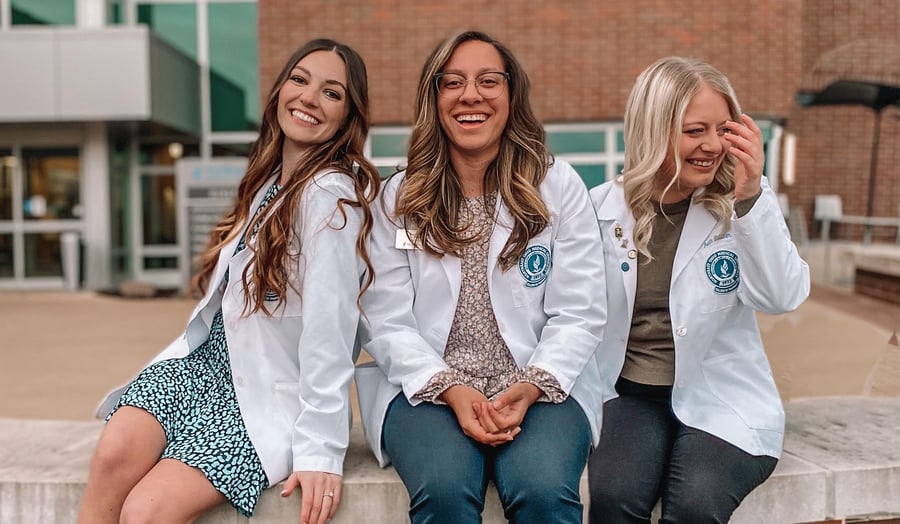 Faith has known she wanted to be a pharmacist since she was young; she chose to skip a bachelor's degree in favor of earning her Pharm.D. sooner. Initially nervous to go "all in" on pharmacy school, Faith found the faculty support and inclusive environment at NEOMED just what she needed to maintain confidence in herself and her future career. Keep reading to learn more about Faith's journey to becoming a pharmacist at NEOMED.
1. Tell me a little about yourself. Where are you from? Where and what did you study during your undergraduate years? What initially got you interested in pharmacy?
I am from Ashland, Ohio and attended the University of Akron where I spent two years completing the prerequisites required to attend NEOMED. I became interested in the field when I was just a junior in high school, and I met a pharmacist that showed me what all pharmacy includes. I had no idea how many different areas there are in pharmacy and I grew a passion for helping others through this field.
2. Did you encounter any hesitations, obstacles or fears about pursuing a Pharm.D.?
I was hesitant at one point just because of the path that I chose to obtain my Pharm.D. I decided very early on that, not only did I want to go to pharmacy school, but also that I wanted to go to NEOMED. So due to this, I decided to just do the prerequisites and apply as soon as I was done with those. This did add in some fear because I had no degree to fall back on, and I went all in with this field, but I am so glad that I did.
3. Why did you choose the pharmacy program at NEOMED? Now that you've experienced the program, what's your favorite part about it?
I chose NEOMED not only because of the location, but also because of the amazing testing rates NEOMED graduates earn consistently. Now, being at NEOMED, I would say that my favorite part of being here would be the fact that we are so encouraged to be involved in the school. I have been able to get involved not only in organizations but also with faculty to help me grow and become better equipped for whatever is to come in my future career.
4. What resources do you feel set NEOMED apart from other Pharm.D. programs?
I feel that you can just tell how much the faculty cares about each student. The atmosphere is less competitive and allows for everyone to work together throughout the program. NEOMED constantly encourages peers to help one another whether that be through our Early Assurance Program, Peer-Mentor Program, or through Peer Tutoring. There is just a level of inclusion that you don't see everywhere else.
5. What achievement, project, or experience are you most proud of from your years in pharmacy school?
The one school thing that I am most proud of through my time at NEOMED so far is the level of confidence that has expanded for me. The school allows me to be as involved as I would like to be, which helps me step out of my comfort zone on a regular basis. I have grown in my leadership, research and academic roles and gain more confidence in myself for my future career.
6. What are your career dreams or plans? How has the Pharm.D. program at NEOMED helped prepare you for your future?
NEOMED has allowed me to see all different sides of pharmacy. I knew it was a vast field, but there are so many different opportunities that I did not even know existed. I am not sure exactly where in this field I will end up, but I do know that whatever I choose, there is someone at NEOMED who will help me get there or get in contact with someone in that area.
7. Is there anything else you'd like to add? Any advice or wisdom you would pass along to a prospective student?
Don't be afraid to reach out to current students if you have questions. I know that myself, as well as my classmates, would be glad to help you with any questions you might have about the school, campus or day-to-day activities or classes.
Start Your Career in Pharmacy at NEOMED — Connect With Us Today!
If you think a career Pharmacy could be your future, we want to hear from you. As Faith says, whatever sector of pharmacy you choose, "there is someone at NEOMED who will help [you] get there." If you need help figuring out if you're ready to apply, we invite you to schedule an admissions information session with us. In order to do so, contact the College of Pharmacy at kjeroski@neomed.edu or schedule a meeting. Best of luck!

Want to learn more about what's required to apply for pharmacy school? Download our resource, "No Bachelor's? No Problem! How to Become a Pharmacist in 2021".
About the author
Kelly Jeroski
Assistant Director of Admission